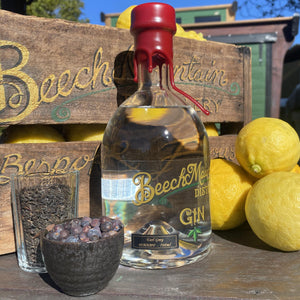 Beech Mountain Distillery
Earl Grey
Regular price
$80.00
$0.00
Unit price
per
700ml | 22 STANDARD DRINKS | 40% ABV | AUSTRALIAN MADE & OWNED
Perfect for a relaxing afternoon tea, or two. Our new Earl Grey Gin combines fresh harvested Australian Bergamot citrus with high quality organic Ceylon Earl Grey.
Highly aromatic and indubitable; this Earl Grey gin is ready to be served alongside cucumber sandwiches and a round of badminton. Rounding maltiness lended from the Ceylon Tea is met with a solid Juniper base to create a very exquisite Gin profile. Fresh Bergamot citrus is vapor infused along with the tea; rounding everything to a wonderfully pleasant and unmistakable Early Grey flavour. Delightfully moreish in a Gin & Tonic

Fresh harvested Australian Bergamot means this Gin is highly seasonal; so be sure to get some while its hot!

---