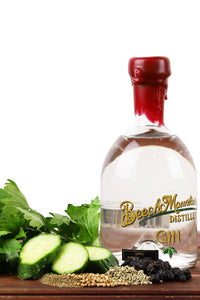 Beech Mountain Distillery
Celery and Cucumber
Regular price
$70.00
$0.00
Unit price
per
700ml | 22 STANDARD DRINKS | 40% ABV | AUSTRALIAN MADE & OWNED
TASTING NOTES
Our "Breakfast Gin"; a fresh, herbaceous gin which has an unmistakably bold "healthful" taste of Celery and Cucumber, which pairs nicely with soda and that makes a fantastic, tasteful replacement for Vodka in a Bloody Mary.

SERVING SUGGESTION 
We suggest creating one of our Signature Cocktails out of this delicious, fresh gin. View our recipes page below to find our 
Celery & Cucumber Bloody Mary Recipe and  The Leafy Green.
Celery & cucumber Bloody Mary Recipe
*In a tall glass over ice, combine (to your taste) tomato juice, a splash of worchestershire sauce, a dash of Tabasco sauce, celery salt, lemon and 60ml of BMD celery gin.
Garnish with a stick of celery.

The Leafy Green
*in a tall glass over ice combine *60ml BMD celery and cucumber gin, 60ml celery and cucumber juice, 15ml simple syrup, 15ml lemon juice, top with soda and garnish with mint..
---